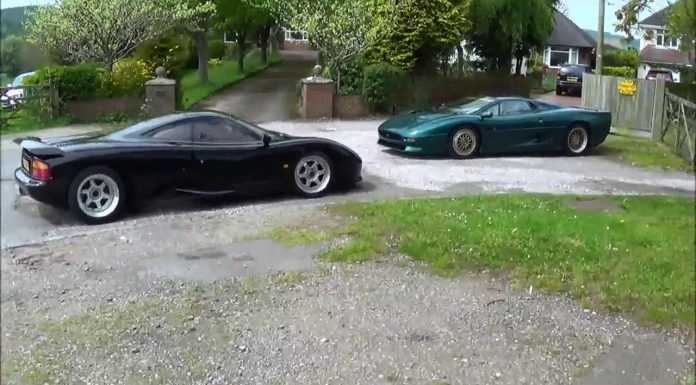 The crew over at Supercar Driver have a new video to share with us, featuring a very rare Jaguar XJR-15. The car took part in their Don Law Racing meet this weekend and they got to film accelerations, revs and the exterior looks. The car sounds absolutely beautiful and would make some of modern supercars shy away. In the video, we also get to see the legendary Jaguar XJ220, both cars have made Don Law Racing one of the biggest names in Jaguar supercars.
Let's delve into the history a bit. In 1988 Tom Walkinshaw, an eminent Scottish racing driver, thought of building the road going version of the famous XJR-9, a Le Mans race car. With support from his racer friends, the project gained some momentum. In 1990 Jaguar started building these sports cars. Only 53 were built between 1990 and 1992 and each cost a whooping US$960,165. Compared to today's cars, that number might come across as distinctly average, however, in its era this was an incredibly expensive car.
The Jaguar XJR-15 boasted a naturally aspirated V12 engine making 450hp and 420 lb-ft of torque. A 0-60mph time of 3.9 seconds was recorded, that is still faster than some modern supercars of today. The Jaguar XJR-15 did all this without modern technologies.The car had a top speed of 307km/h. Its successor is what you very well know off, the XJ220. Now that was an era that Jaguar made really fast road going cars.