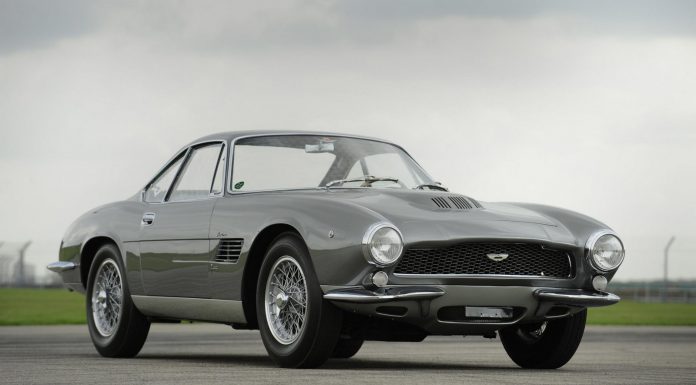 An Aston Martin DB4GT broke the world record for any auctioned Aston Martin car by auctioning at £3,249,500. That was at the annual and 14th Bonhams auction of Aston Martin and Lagonda cars, at Aston Martin Works.
The auctioned was lined with the Aston Martin Centenary Sale at Aston Martin Works on 18 May 2013, the totals sales summed up to £10 million. This particular DB4GT was the last one to be built and had been treated to coachwork by the famous Italian design house Bertone. The car was lighter than the normal DB4 and optimized for road and track purposes, it made its debut at the 1961 Geneva Motor Show.
The previous owner had done some really impressive work to it, he had commissioned Aston Martin Works to restore the DB4GT to restore it. It would then win 12 awards, including first in class at Pebble Beach and the Hurlingham Club, and best in show at Villa d'Este. In the same auction, there was also a 1964 DB5 coupe with less than 48,000 miles on it, it fetched £320,700.
The Aston Martin DB4GT came equipped with a DOHC Straight six, 3670 cc engine that developed 302 bhp at 6000 rpm and 240 lbs-ft of torque at 5000 rpm. It was mated to a 4-Speed manual transmission.
Kingsley Riding-Felce, Managing Director of Aston Martin Works, said:
This year's Bonhams sale was a great success, with 197 lots finding new buyers and more than 2,000 customers and enthusiasts taking part. It was the first event to make use of the fully refurbished Olympia Building which now houses our Heritage Showroom, and that made the day all the more special.

The Heritage Showroom allows customers to take advantage of the vast knowledge and experience of the Aston Martin Works team, whether for sales, service or our world-renowned restoration division. We can now provide the unique experience of being able to view and compare cars from every era of Aston Martin's 100 years.
Jamie Knight, Bonhams Group Motoring Director commented:
As ever the day was tremendous, with both Bonhams and Aston Martin Works contributing much to ensure this was once again one of the highlight sales on the global auction calendar. 'The Jet' realising the highest price ever achieved for an Aston Martin here at Newport Pagnell was a fitting tribute in the marque's Centenary Year.