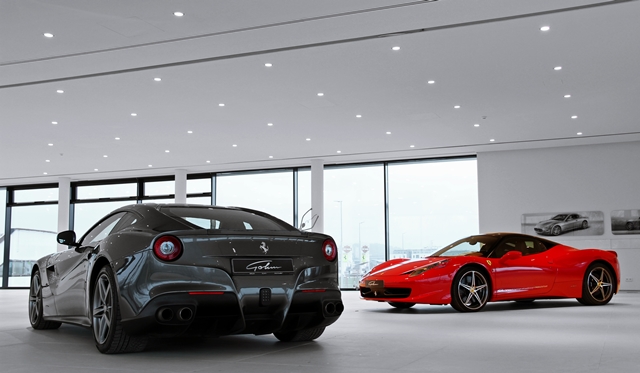 Despite heavy rain Fabian Räker captured a wide range of rare cars within the frame of the 2013 season opening at the Meilenwerk Böblingen, Germany.
As you can see in the gallery below he managed to get a few shots of the brandnew Ferrari showroom, the Lamborghini showroom and the Meilenwerk. The gallery includes some very expensive supercars like the SLR McLaren Stirling Moss, a Lamborghini Murcielago LP650-4 Roadster, various Ferrari F12 Berlinetta, a Ferrari Enzo Ferrari, a Ferrari F40, a Lamborghini Diablo, a Lamborghini Aventador LP700, two Mercedes-Benz C63 AMG BlackSeries, a TechArt GT Street R, a Mercedes-Benz SL65 AMG BlackSeries and an undefined prototype.
Have a look at his facebook fanpage to see more pictures of the event.