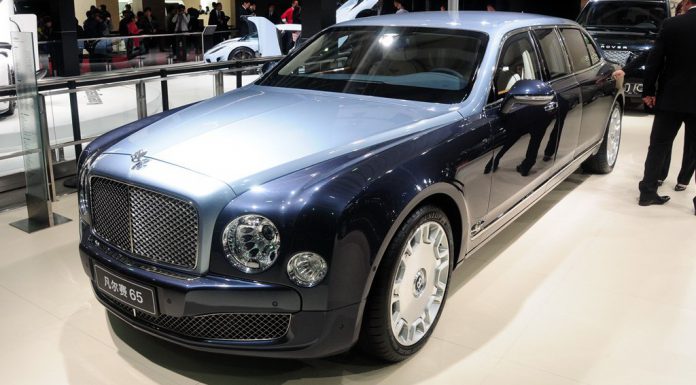 At the Shanghai Auto Show 2013, Belgian security manufacturers Carat presented their Armoured Bentley Mulsanne Limousine. We haven't seen this car at an auto show before. It certainly looks imposing though. We think it is fitted with full B6 specification armouring. Although we're not quite sure why such a car should appeal to Chinese customers.
What the Chinese are sure to like though is the amount of space at the back. It gets two full Bentley seats at the rear with an Apple iPad computer setup, a rear divider and plenty of storage space. The Mulsanne probably gains an extra 60 or 70 cm of length as well as a two-tone paint scheme.
B6 protection usually includes 39mm thick windows, fuel tank protection and fire suppression system, run flat tires, and underbody explosion protection. It is intended to help withstand attacks by hand grenades, pistols, and assault rifles. Carat has not revealed if the powertrain, but the standard Mulsanne comes with a 6.75 litre V8 developing 512hp and 1020Nm of torque.