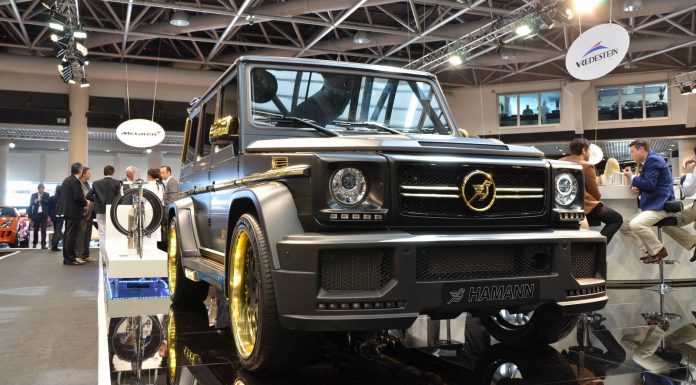 The Hamann G65 AMG Spyridon is on display at Top Marques Monaco 2013. The upgrades are available for both the Mercedes-Benz G 65 AMG and the G 63 AMG. We sent a photographer over to capture the Hamann Spyridon Mercedes-Benz G 65 AMG live on the show floor!
The Hamann Spyridon is distinct from the production series as it features a new paint which if combined with a small amount of electricity, it glows. The exterior features mirror housings made from carbon fibre as well as the bonnet, which is fabricated completely of the carbon material, weighing in at just 6.5kg. The roof spoiler and the rear apron with integrated diffuser are responsible for the improved dynamics. The new site skirts include LEDs that illuminate the floor and light up the triple tailpipes of the sports exhaust gas system. These end pipes were milled from a solid block of aluminum and anodized in a golden color.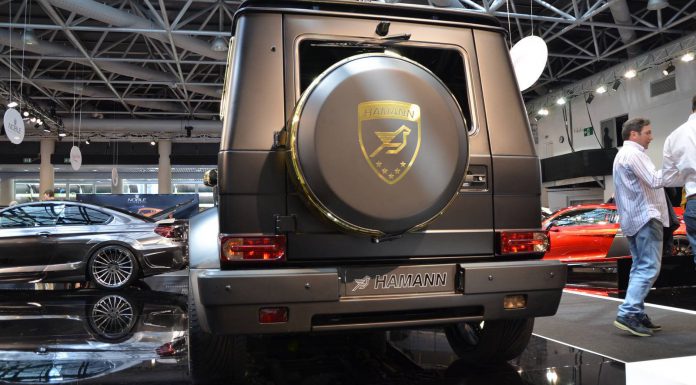 Power gains are a breakthrough from the Hamann package, the Mercedes-Benz G 65 AMG produces 612hp while Hamann's tuning program with a completely new exhaust system gives 702hp and a maximum torque of 1,110Nm. The 5.5 Litre V8 bi-turbo Mercedes-Benz G 63 AMG now produces a remarkable 610hp instead 544hp and reaches a peak torque of 875Nm rather than 700Nm.