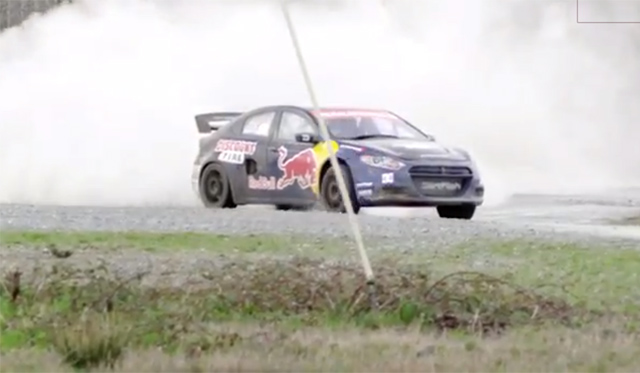 Travis Pastrana and Dodge have teamed up to contest the 2013 Global Rallycross Championship in two nowhere near stock Dodge Darts.
While Pastrana can only drive one car (obviously), team sponsor Red Bull insists that "two is always better than one" and, by the looks of their launch video, they are absolutely correct. While, admittedly, the Dodge Dart is not a car that is immediately thought of as a sporty, track focused car, the prep work done to the two Pastrana cars is nothing short of amazing.
Last year was a season of highs and lows for Pastrana, who seemed to suffer technical misfortune and human error in much of his 2013 contest. However, with the continued help of a veteran motorsport-focused team in Red Bull, surely this year is looking up. Dodge President Reid Bigland seemed quite optimistic about Dodge's involvement in the series, "Racing is an integral part of our heritage and embodies our competitive spirit, so we're very excited to have Travis Pastrana back in the Dodge Dart for the 2013 season."
We will keep you posted as the seasons get under way. The good bits of the video start about 3/4th of the way through, by the way.