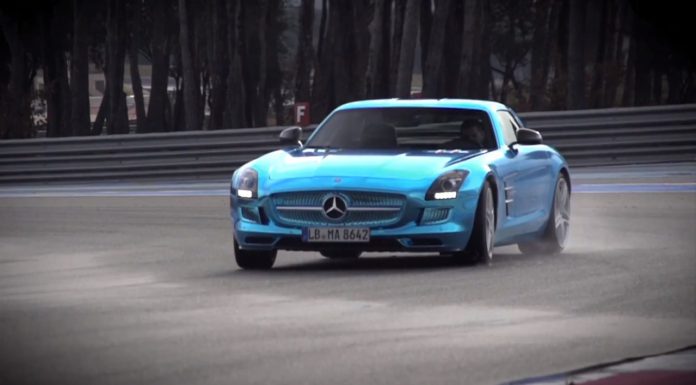 Electricity, customer cars and race circuits. Three things that really shouldn't mix. Yet Mercedes-Benz recently became the first company to offer such a mix. The Mercedes-Benz SLS AMG Electric Drive offers a performance coupe with real performance potential. So much so, Mercedes managed to tempt Chris Harris into visiting Circuit Paul Ricard on behalf of the DRIVE YouTube channel.
As you've probably guessed, he didn't hold back and gave the Coupe a full in depth review. Below you'll get a fantastic insight into the way the SLS AMG Electric Drive performs as well as a technical summary. Well worth 20 minutes of anybody's time!
The SLS AMG Coupé Electric Drive features four independent permanent-magnet synchronous electric motors, each weighing 45 kg and able to achieve a maximum individual speed of 13,000rpm. The battery is a 400 volt liquid-cooled lithium-ion high-voltage battery with 864 lithium-ion cells in total. Total power figures are 552kW (740hp) and maximum torque of 1,000Nm which allows the Electric Drive to accelerate from zero to 100km/h in 3.9 seconds, and on to an electronically limited top speed of 250km/h.