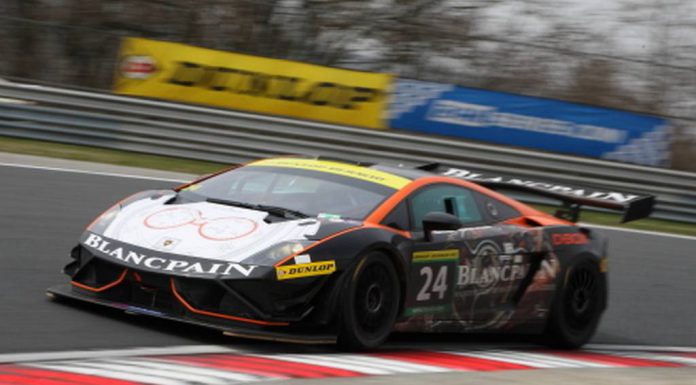 The 2013-specifications Lamborghini Gallardo GT3 FL2 has walked away with its maiden victory of debut after taking the crown at the Hungary 12hrs on Saturday.
This race marked the first outing for the new Lamborghini Gallardo GT3 FL2 built by Lamborghini in collaboration with Reiter Engineering.
A trio of Swiss drivers were responsible for bringing the Lamborghini Gallardo GT3 FL2 to victory at the Hungaroring despite the tricky conditions.
The main focus of the updated Gallardo racer was the addition of more capable '24-hour' brakes, a more effective engine cooling setup and reduced fuel consumption. Additional changes include a new aero kit, new front splitter and a redesigned rear carbon fiber diffuser.
President & CEO of Automobili Lamborghini Stephan Winkelmann said, "Last year we as a company made some serious commitments to motorsport in our 50th anniversary, one of which was to contest the GT3 category in a far more committed way. I am delighted that the co-operation between Reiter Engineering and our development engineers has done such a good job to deliver an early success and they – and the drivers – must take credit for a convincing win in such competitive company – it is the best possible start to Lamborghini's 2013 motor racing season."