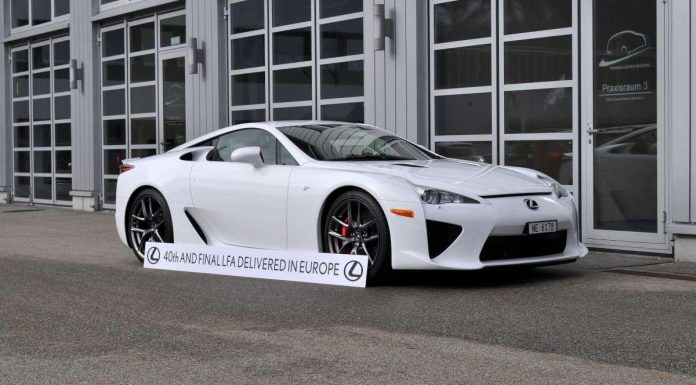 When the final Lexus LFA rolled of the production line at the Motomachi plant in Japan, we showed you a live photo from the factory early that morning, it was the 500th Lexus LFA and out of those cars, 40 were made for Europe. Four of those forty were the very limited Nürburgring Edition. Lexus has reported that the 40th Lexus LFA meant for European market has finally found a new owner.
Nicolas Schilling is the lucky guy and who bought this last car, its painted in white and being an exporter of Italian and French wines into Japan, Nicolas has what it takes to afford this sportscar. The 40 cars sold well in Europe with Germany leading with a total of 15 cars, Switzerland follows with 6 cars, United Kingdom with 5, the Netherlands with 4 and France with 3.
Just as a quick recap, The LFA is the second model from the F-Series and follows the IS-F. It features a race-derived 72-degree V10, displacing 4.8 liters and producing a peak power of 552hp at 8,800rpm. The maximum is a thrilling 9,000rpm. Peak torque is 354lb-ft at 6,800rpm with 90 percent available between 3,700 and 9,000 revs.