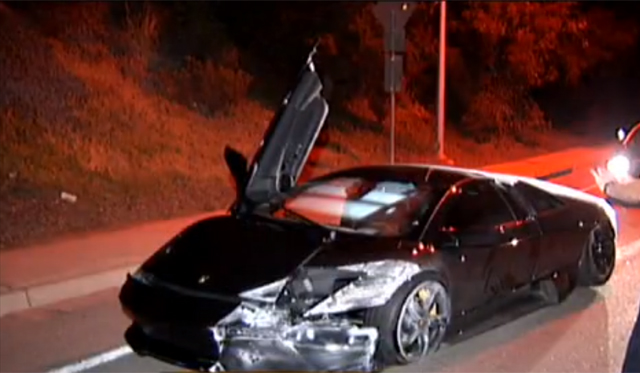 While modern day supercars are magnitudes easier to drive compared to just a few decades ago, the finesse and skill needed to handle a 500+hp car has not changed.
A fact this newly minted Lamborghini owner found out mere hours after he finished signing the paperwork on his brand new Murcielago. According to 10News in La Jolla, California, a man and a woman were seen fleeing the scene after the accident. The accident, which occured at 11:45 pm, was caused by the driver losing control after exiting the freeway at a high rate of speed. Witnesses heard the couple frantically say "Let's get out of here." moments before leaving the scene.
Paperwork recovered from inside the Lamborghini indicated the car had been purchased from Lamborghini Newport Beach just hours prior. Law enforcement is staking out the address listed on the purchase documents in order to arrest the driver. 10News and local law enforcement have no reason to suspect the car was stolen.
La Jolla based news outlet 10News will continue to follow the story. We will bring you updates as we learn more.