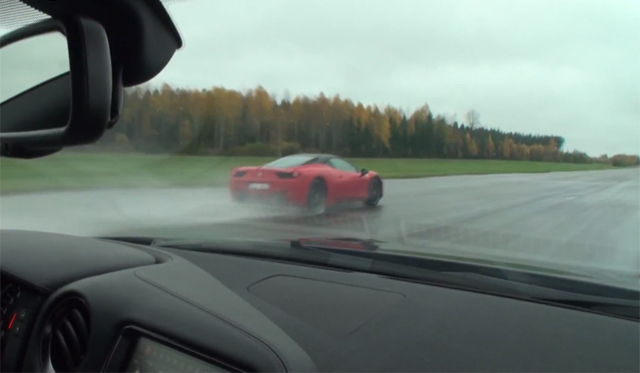 Ever since its inception in 2008, the Nissan GT-R has remained one of the fastest accelerating cars on the planet. When first introduced, it could sprint to 100km/h in just 3.5 seconds and over the years that's steadily decreased to today where the 2013 model can hit that figure in just 2.8 seconds thanks to an uprated twin-turbo V6 engine now pumping out 530hp.
But how would such a performance machine go against the 562hp Ferrari 458 Italia? Well, M5boarddotcom recently set out to what just that out, pitting the two cars together for four rolling drag races in the wet.
As you would expect, the Nissan GT-R gets better launches in the slippery conditions thanks to its all-wheel drive system, but from then on, the extra power of the Ferrari 458 Italia begins to take full effect and it comfortably wins each and every race.