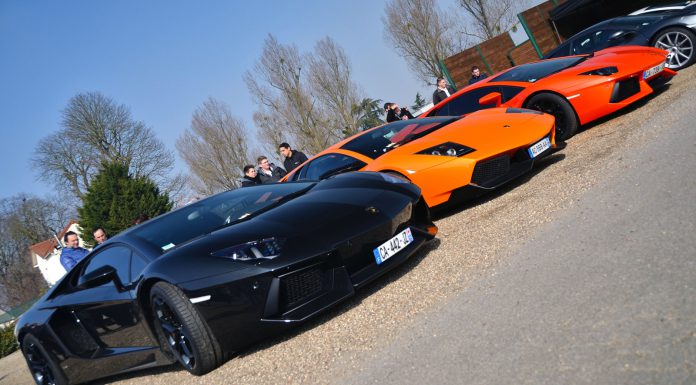 Paul Styles was recently able to capture the following trio of Lamborghini V12's at a recent supercar gathering, and what makes this image all the better is the fact that it features two Lamborghini Aventador's as well as one Lamborghini Murcielago LP670-4 SV which was of course, the predecessor to the Aventador.
Despite being extremely different under the skin, both the Aventador and Murcielago SV have numerous similarities namely the fact that they both use 6.5-liter V12's and have acted as Lamborghini's halo-supercars.
The Lamborghini Murcielago LP670-4 SV features a 6.5-liter V12 engine delivering 662hp. As a result, the car can hit 100km/h in just 3.2 seconds before continuing onto a top speed of 211. Similarly, the Aventador also utilises a 6.5-liter V12, except it's been completely redesigned over the Murcielago's.
As a result, it's even more powerful as it produces 692hp, and can rocket the car to 100km/h in just 2.9 seconds before stopping at a top speed of 217mph.