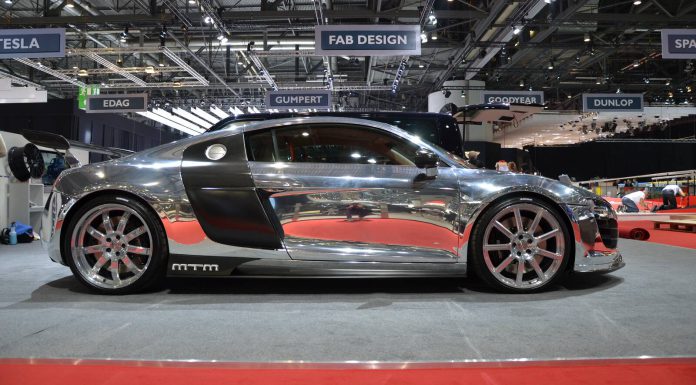 MTM displayed their MTM R8 V10 BiTurbo on their Geneva Motor Show 2013 display. The MTM R8 V10 BiTurbo is instantly distinguishable by its naked aluminium colour scheme. We've seen it before but we still think it looks fantastic! Take a look at the live pictures inside!
The twin-turbo conversion result in a staggering peak performance of 777 horsepower and 888Nm of torque. The MTM R8 V10 BiTurbo sprints from standstill to 100km/h in 3.0 seconds, to 200km/h in 9.3 and 300km/h in just 19.4 seconds. The top speed of the shiny Audi is more than 350km/h.
Modifying the bodywork of the aluminium Audi R8 BiTurbo took 700 hours of polishing. The bodywork was further enhanced by adding carbon fiber parts. An adjustable rear spoiler and a front lip has been installed to improve the aerodynamics and stability of the R8. To round off the outside MTM fitted Bimoto 20 inch forged rims, which cover the brakes measuring 380x34mm featuring eight-piston calipers.