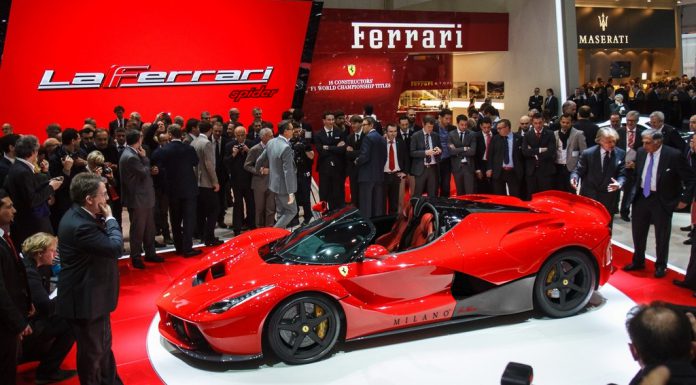 Even before the Ferrari LaFerrari is taken out of the Geneva Motor Show 2013, virtual tuners have jumped onto it and rendered a spider version. This one is from Neo Matrix and Sam Moores, the render is based on the Ferrari LaFerrari that we showed you on Tuesday. It is in the same position on the stand but now without a top and black polished Ferrari wheels.
The Ferrari LaFerrari was among the most anticipated cars at the show. It boasts a 6.3 liter V12 which is connected to an electric motor similar to the system on the McLaren P1. The Ferrari F150 V12 has an output of 800hp at 9.000 RPM and 700Nm at 7.000 RPM while its electric motor has a maximum output of 163hp and 270Nm of torque. That delivers a total combined power output of 963hp, allowing the new Ferrari Enzo to do 0-100 km/h in less than 3 seconds, 0-300 km/h in 15 seconds and a top speed in excess of 350 km/h.
These are the live photos of the LaFerrari at the Geneva Motor Show 2013.