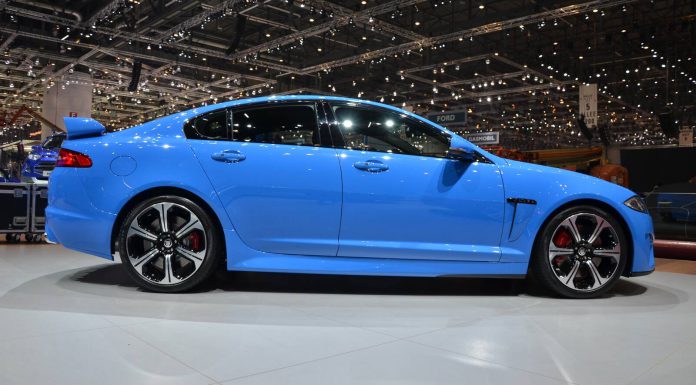 The Geneva Motor Show 2013 sees the official European debut for the Jaguar XFR-S. It may have been spotted on the roads a few times, but this is the first time Jaguar's top of the range XF model has been displayed publicly in Europe. We loved its younger brother, the Jaguar XFR, so we felt compelled to check out the changes Jaguar's Nurburgring-based development team have made.
The Jaguar XFR-S delivers 550hp and 680Nm from its 5.0 liter supercharged V8 engine. This is 40hp and 55Nm higher than the XFR, yet almost identical to the Jaguar XKR-S. A sprint from naught to 100km/h is dispensed with in just 4.6 seconds and the top speed is 300km/h. A new exhaust system improves the sound track and it must be noted that this is the most powerful sedan Jaguar has ever produced. Power hits the rear wheels via a ZF eight-speed transmission.
The Jaguar XFR-S gets an aggressive body kit delivering 68 percent more downforce than before. It features a new front fascia, revised side skirts, a new rear diffuser and a massive rear wing all bathed in carbon fiber trim. The suspension is 30 precent stiffer and the XFR-S rolls on wider wheels with 265/35R20 Pirelli tires at the front and 295/30R20 at the rear.
For full details on the Jaguar XFR-S, check out the embedded link.