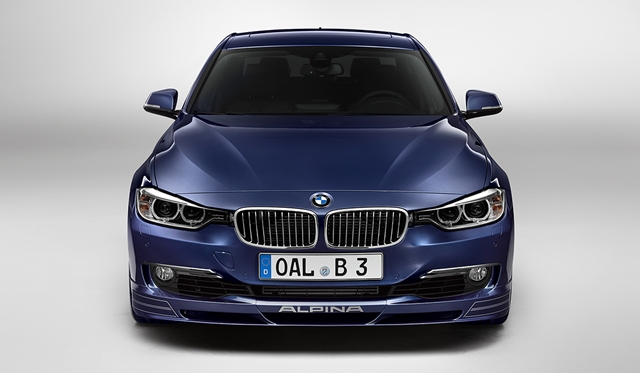 BMW's official tuning arm Alpina Automobile has revealed three more teaser of their new B3 Bi-Turbo which will be unveiled at the Geneva Motor Show 2013.
Based on the latest generation BMW F30 3-Series,the Alpina B3 Bi-Turbo features an upgraded 3.0 liter turbocharged engine that delivers 410hp between 5,500rpm and 7,000rpm and 600Nm of maximum torque between 3,000 rpm and 4,000 rpm. The Bi-Turbo powerhouse will be mated to a new ZF eight-speed automatic gearbox. Expect the sprint time to be less than 4 seconds from rest to 100 km/h and 14 seconds from standstill to 200 km/h. The top speed is 305 km/h.
The wheel arches are filled with the long-established silver Alpina wheels in 20 inches. The elliptical tailpipes accomplish the elegent exterior of the Alpina B3 Bi-Turbo which will be priced at 65,000€.