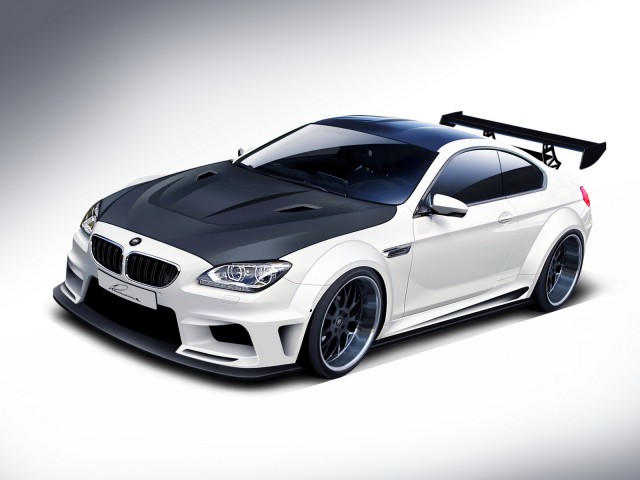 The tuning pros from Winterlingen in Swabia Lumma Design will show their tuning program for the BMW M6 F12 and F13 ranges at the Geneva Motor Show 2013 next week. The Lumma Design BMW CLR 6 M is based on the BMW M6 with its powerful 412 kW V8 biturbo engine. It the top of the performance range for the BMW 6-Series.
The Lumma Design BMW CLR 6 M will add a full-carbon hood with venting slots to the strong profile of the front spoiler bumper and large air intakes of the M6. Add to this the aerodynamically optimized rear diffuser and a stainless steel exhaust system with a total of four tail pipes. These are each 100 millimeters in diameter and along with the rear racing wings, which are also entirely produced in carbon.
The front and rear wheel arch extensions are make room for the custom designed multi-part Lumma Design 21-inch sport rims, which are made to fit wide tires at the front axle for dimensions of 275/30/21 and at the rear axle for 325/25/21. The tuner says that this body kit is suitable for all sedans and convertibles of the BMW six series, models F12 and F13, from 640i to the M6.
As a special service for its customers, Lumma Design offers an instant total tuning package on site in the professional Lumma Design workshop with in-house paint shop. The total tuning package can also be ordered as a body kit directly at Lumma Design. All components are immediately available for delivery.
We will be bringing live photos of the Lumma Design BMW CLR 6 M early next week!