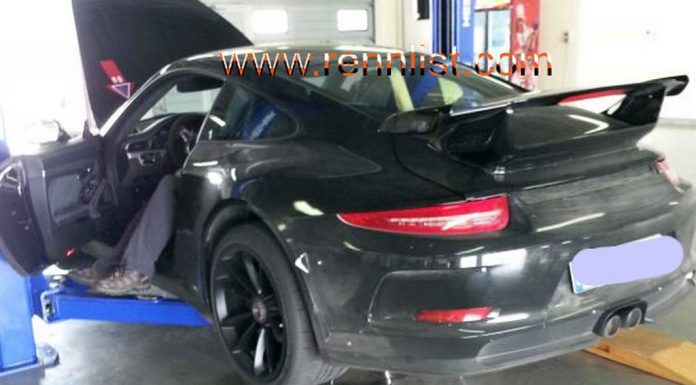 An unnamed Rennlist forum member has reportedly received inside work for Porsche test driver's and engineers that the upcoming Porsche 911 GT3 will be the fastest, and most extreme GT3 to date with a new Clubsport variant expected to be offered.
The member somehow ran into the car as it was being serviced while testing continues and even though we're a little bit unsure of why engineers would leak such confidential information out to a citizen, we're more than happy with what's being reported.
First and foremost the new 911 GT3 will have a tachometer revving to 10,000 rpm, with redline set at 9,000rpm, meaning it'll rev just as aggressively as the much more powerful Ferrari 458 Italia. Additionally, it was revealed that the 3.8-liter V6 engine will deliver over 450hp, rather than the flat 450hp previously reported.
Additionally, the exclusive picture the member was able to capture shows the production ready rear wing for the very first time, as all previous prototypes have featured a smaller unit, with a rear bootlid lip spoiler as well. This particular rear wing is very similar to the unit fitted to the previous GT3.
Furthermore, it's been revealed the new Porsche 911 GT3 will share the same widebody chassis as the Porsche Carrera 4 and that it'll run on Dunlop Sport MAXX tires measuring 245/20 front and 305/20 at the rear.
The aforementioned Clubsport variant is apparently the one in the following picture and includes a rear roll cage.