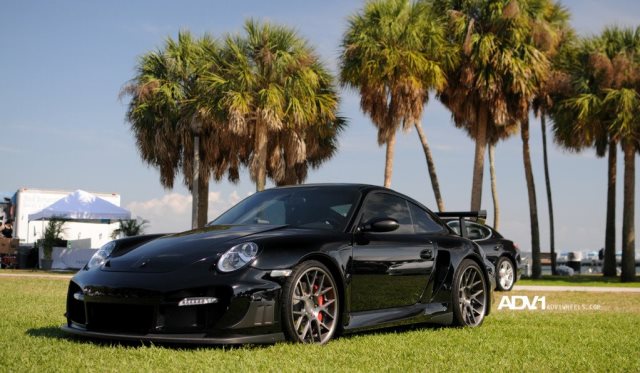 Houston-based tuner EVS Motorsports presented a TechArt Porsche 997 Turbo GTstreet edition which was fitted with ADV.1 wheels. The car was up for sale at that time when William "The Beard" Stern carried out the photoshoot but we could not help but notice the Porsche 997 with treatment from TechArt, a specialist and tuner of Porsches.
It features the TechArt Noselift system that gives approximately 60 mm of additional ground clearance at the front spoiler. It is activated at the push of a button to prevent grounding through hydraulic ride-height control at the front axle.
The GTstreet front apron features a retractable carbon fiber front splitter. Large striking air intakes provide more cooling air to the radiators and brakes. New auxiliary headlamp units with daytime running lights and fog lamps improve active safety.
For the engine performance, TechArt provides power gains for the 911 Turbo as well as for the 911 Turbo S models. Powerkits include the TA 097/T1 power kit that raises the performance from 500hp to 570hp and the TA 097/T2 power kit that boosts the output to 620 hp. There is also the TA 097/T3 power kit that raises the performance to 700hp.