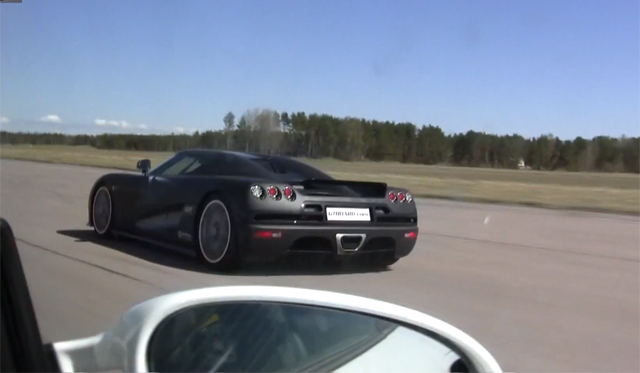 Even though the Koenigsegg CCR has been out of production for quite a few years, the team at m5boarddotcom managed to attain a carbon-fiber clad CCR Evo and quickly set about testing it in a drag race against a Porsche 997 911 GT2 tuned by Cargraphic with their Stage 3 Powerkit.
Even though the Koenigsegg CCR Evo has upwards of 1000hp, the Porsche 911 GT2 gets a fastest start and manages to build a seemingly insurmountable lead over the CCR. However, in the later stages of the drag race, the extra power of the Swedish Koenigsegg begins to take force and it quickly catches and overtakes the GT2.
Not bad for a completely stock supercar which has been superseded by the much faster Agera and Agera R.