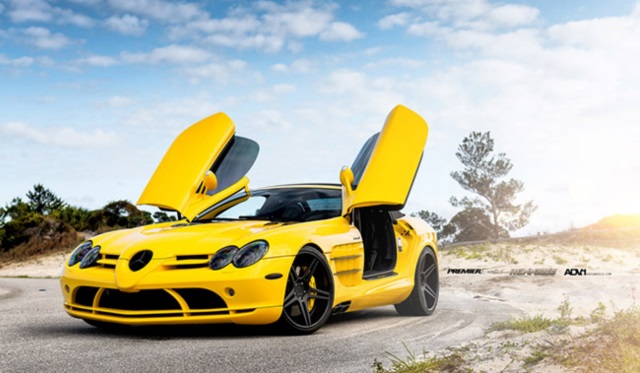 Florida based Premier Exotics added a Mercedes-Benz SLR McLaren tuned by RENNtech to its bucket list. It features a unique yellow body wrap. It features the performance package that offers 750hp and 735lb-ft of torque from RENNtech. This package comes with the proprietary ECU, pulley, dual intercooler pump upgrade, stainless steel headers and sport catalytic exhaust upgrade for the ultimate in performance and sound.
As a result the numbers jump to 750hp at 6,400rpm and 735 lb-ft of torque at 4,000rpm. This is a quite subtantial difference when compared to the stock engine that gives 617hp at 6500rpm and 580 lb-ft of torque at 3250-5000rpm, from the 5.4 liter V8 engine with a Lysholm-type twin-screw supercharger.
The Mercedes-Benz SLR McLaren was then treated to a set of ADV05 deep concave ADV.1 wheels where the front axle was bolted with 20×9.5 inches of these wheels while the rear axle received 21×10.5 inches of the same. To match the theme of the supercar, they are finished with a matte black center and gloss black lips and inners.