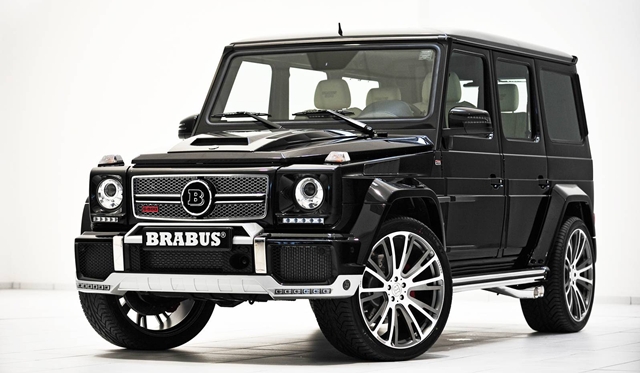 German tuner Brabus has brought their updated version of the Widestar 800 to Qatar which is based on the 2013 Mercedes-Benz G65 AMG.
The high-performance SUV features the V12 6.0-liter bi-turbo engine producing an impressive 800hp and 1,420Nm of torque. That final torque figures has had to be restricted to 1,100Nm in order to protect the drivetrain componants.
This enormous power goes to the permanent all-wheel drive system through a 7-speed automatic transmission. With the impressive power upgrades, it takes just 4.2 seconds to reach 100 km/h. Furthermore the vehicle can achieve a top speed restricted to 250km/h. Unrestricted you can achieve 270km/h, although quite how many will experience this is questionable.
The body receives a complete wide body kit. This includes sculpted fender flares, front spoiler with LEDs, a new look for the front grille and widened wheel arches which provide enough space for the 23-inch nine double-spoke wheels with 305/35 R23 high-performance tires.
A full selection of interior upgrades can be ordered from the Brabus upholstery shop including leather, Alcantara, carbon fiber and wood. Furthermore they can fulfill special colour requests and designs.