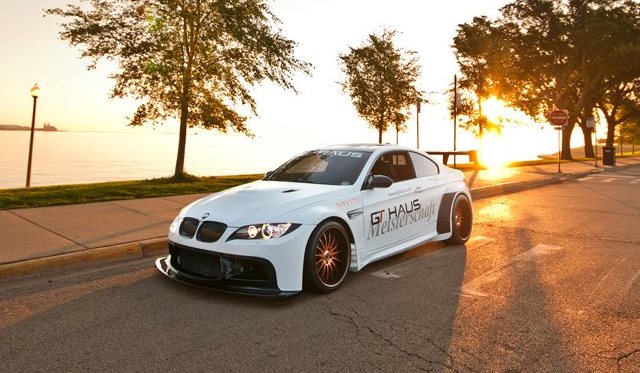 Illinois-based BMW tuner GTHAUS revealed a photoshoot of their BMW E92 M3 some time ago. The shoot features their E92 M3 fitted with Meisterschaft GTC exhaust system cruising through the streets of Chicago on an early Saturday morning, photos were taken by Jeremy Cliff.
The body kit was originally co-developed with BMW motor sport division for race purposes. Its currently used in Europe for GT and GTS class racing for the BMW E92 M3 model. The kit is available in a sturdy ultra-light Carbon fiber or durable light Glass fiber version and imported by GTHAUS for North American BMW racers and enthusiasts.
It consists of wide (front and rear) fenders, front and rear bumpers, and full-length side skirts with fully effective aerodynamic ventilation. The full Flomann BMW GT2 Alms E92 M3 conversion includes the signature exhaust brand Meisterschaft. All parts are engineered and carefully handcrafted by Peter Flossmann, master designer of the JUDD racing team and aerodynamic body engineer for numerous respected racing teams.