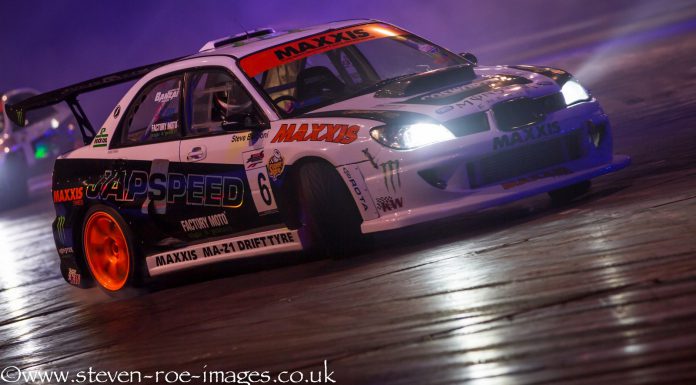 One of the main attractions for any visitor of the Autosport International Show is the Live Action Arena. The show which was presented by BTCC presenter Louise Goodman and Sky's Paul Musselle. The Live show which lasts an hour contains a wide range of stunts, car models and celebrity appearances. This year these celebrities included Johnny Herbert and Jake Humphrey.
Guinness World Record stunt driver Terry Grant made an appearance and showcased his dedication to all things Bond. The Japspeed drift team who show off their talent to burn rubber. Shane Lynch was one of the drivers who completed doughnuts and figure eights on the track.
The McLaren Autosport BRDC Young drivers also took part in the Live action show with Winner Jake Dennis who received £100,000 and a McLaren F1 Test drive. Other winners included 2009 F1 Champion Jenson Button, David Coulthard and Force India driver Paul Di Resta.
Porsche Boxters took to the track but in my opinion didn't really shine like they should have. They did not have the action and excitement that other participants had. There was a short Motocross and Supermoto Quads display. The Autocar's Best of British display saw Ginetta G60 and G40R, Range Rover Autobiography 5.0 Liter V8 Supercharged, Lotus Elise, BAC Mono, Jaguar XKR-S, Lotus Exige and Elise.
The last part of the show was the Monster Truck called Swamp Thing which was by far the most ear shattering and entertaining. This years show had more talking than in previous years which took away part of the thrill but the show did have its moments of magic. With six shows during each of the two public visiting days and the final show dedicated to Oval Racing there is something for everyone.