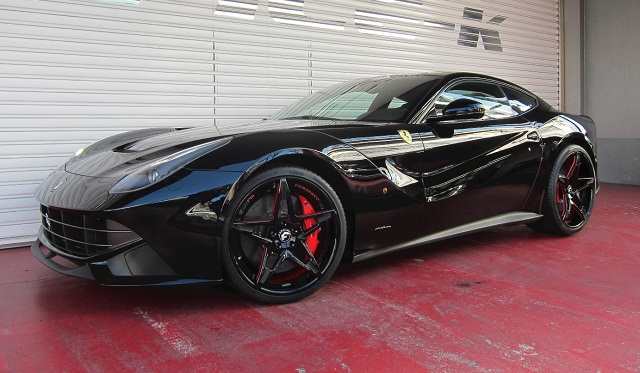 The Ferrari F12 Berlinetta has only just been delivered to customers. Yet, some still crave that extra individual look that only comes with aftermarket tuning. Step in Tokyo-based Office-K who just completed this F12 Berlinetta with a couple of simple updates!
Office-K added a set of Forgiato F2.14 rims to start with. The fit is staggered with 21 inches at the front and 22 inches at the rear. The change is subtle. It adds an element of classic Ferrari style to a new era of supercar. The finish is gloss black with red and carbon fibre accents. Interestingly enought, the F2.14 was originally designed for the Bugatti Veyron!
Parts of the Ferrari have been accented with carbon fibre wrap. These include all the plastic sections including the rear diffuser, the front air intakes, the side sills and the rear light. Hopefully the owner will indulge in a few more updates once the tuning packages start emerging!