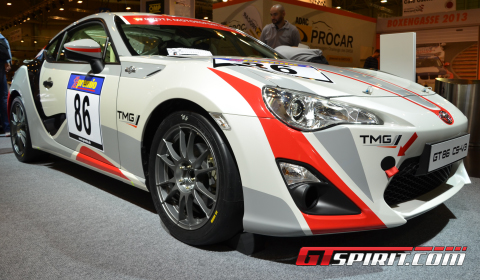 The TMG GT86 CS-V3 racer made its official public debut here at the 2012 Essen Motor Show. Placed next to the TMG Sports 650 Concept and the TS030 Hybrid Le Mans racer, the new racer showcases TMG's capabilities with respect to converting road legal cars into private racers.
The GT86 CS-V3 was already a class-winner in the Nürburgring 24 Hours and is now offered to private customers as a race-ready, easy-to-maintain race car for €38,500 excluding VAT (€45,815 including German VAT). The circuit racer is suitable for a variety of production-based championships, including the German VLN series, and can be upgraded with various options to further enhance performance.
The racer is powered by a production-based 2.0 liter boxer engine producing 200hp at 7,000rpm and 205Nm of maximum of torque. The engine is linked to a six-speed manual transmission. The suspension is upgraded to a motorsport suspension kit. Stopping power is achieved using a ventilated brake disc at the front, racing pads, braided brakelines and additional brake cooling. The racer rolls on 17 inch racing slicks and alloy wheels.
On the inside you get a certified roll cage, racing seat, six-point safety harness, electronic fire extinguisher system, electronic main switch system, racing steering wheel, racing foot rest, safety window net and hood quick release for the front and the rear.