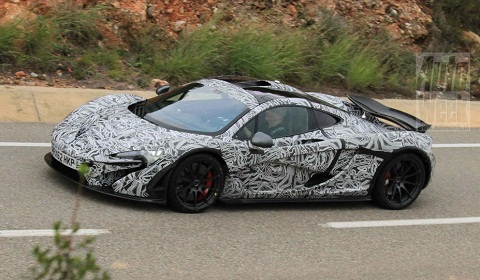 Spy photographers have spotted the McLaren P1 testing again in France! The pictures were shot in the south of France and show the camouflaged P1 prototype on validation testing. The photos reveal a almost identical to the design study released at the Paris Motor Show earlier on in the year.
The overall shape has hints of the MP4-12C with the rear central exhaust and the layout of the rear facia. However, it's obviously a more extreme design with an aggressive layered diffuser, front air intakes that remind us of the Aston Martin One-77 and a set of headlights that look visually similar to the McLaren Automotive logo.
The P1 was designed from the outset to prioritise aerodynamic performance. As a result, the designers spent many hours in a wind tunnel and behind the computer with CFD (computational fluid dynamics) aerodynamic modelling. It produces a staggering 600kg of downforce from well below top speed, five times more than the McLaren MP4-12C. In fact, it's closer to the GT3 racer than anything else.
McLaren are yet to reveal the engine of choice. Instead, the latest release states that the P1 will have 'an immensely powerful engine, superb brakes and state of the art suspension controls.' Power to weight ratio will exceed 600hp per tonne, however, downforce and aerodynamic excellence will be key to package.
The McLaren P1 uses a mid-engine design with a development of the 12C carbon fiber monocoque and roof structure safety cage. It's called MonoCage and also serves to guide air into the engine through an integral roof snorkel and air intake ducts, saving weight in the process. All the body panels are carbon fiber.