The driver of this Lamborghini Murcielago lost control of the car on a wet highway in Norway spinning several times and wrecking the front end almost completely. This happened despite the Lamborghini's four wheel drive system. Interestingly, the car has Reiter Engineering decals on the front bonnnet which leads us to believe that all may not be what it seems.
Reiter Engineering offer a range of upgrades to the Murcielago and it seems a little weird to place the stickers on the car if no work has been carried out! The car doesn't feature any aerodynamic changes so our theory is that the rear-wheel drive conversion has been carried out on this particular car. It definitely features a custom exhaust system.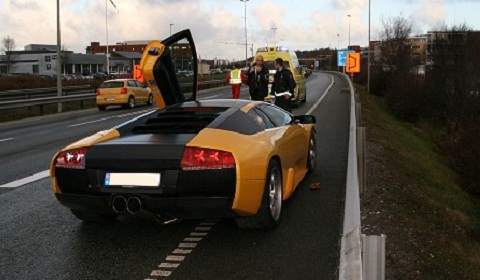 Whatever the state of the car, it looks like it could be fixed. The accident happened on the E39 just outside an IKEA store.
[Via NRK]