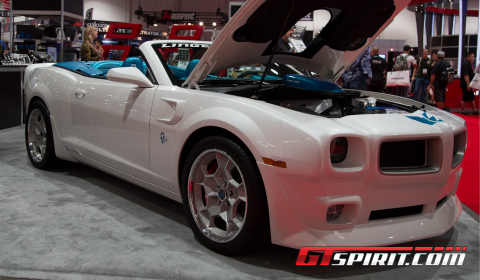 Lingenfelter Performance Engineering (LPE) has turned their LTA concept car into reality by debuting the first production Lingenfelter LTA at the SEMA 2012.
The concept was built from a 2010 Camaro SS and powered by a LS based 455 CID engine that produces 655 horsepower and 610lb-ft of torque. The concept was built around the classic 71 Trans Am interior and exterior theme. The TA featured a classic shaker hood, new front fascia, revised front and rear quarter panels, functional front fender vents and rear spoiler.
The production Lingenfelter LTA begins as a 2010-2013 model year Chevrolet Camaro, which Lingenfelter then enhances with high performance products and body-modifying accessories. It will be available in three levels to suit customers' tastes, with the Level 3 LTA containing Lingenfelter's 455 cubic inch LS engine that delivers a powerful 655 horses.
The Level 3 LTA also features LPE/Kooks Headers with high flow converters, an LPE/CORSA Performance cat-back exhaust, Brembo Brakes, 20×9.5 and 20×11 Honeycomb Wheels with powder coated centers, a custom interior and more. Lingenfelter badges, indicating the vehicle's authenticity as a certified Lingenfelter creation, adorn the interior and exterior.
Lingenfelter announces they will build a limited quantity of Lingenfelter LTA vehicles for eager customers to purchase starting this year. Parts and components are not seperately available, the US tuner only delivers complete en finishdd
[Photos by Effspot Photography]