Eisenmann has released their exhaust system for the BMW F30 3-Series. They are now offering handmade sports mufflers for the four-cylinder diesel versions (316d, 318d, 320d and 320d EfficientDynamics) as well as the sports turbo petrol version 328i.
The sports mufflers are available with either two or four round 76 millimeter end pipes. For the 328i, there is the optional extra of adding an intermediate muffler and a sound pipe, both of which make the sound of the turbo engine that much more aggressive.
A video featuring the sound of the new exhaust system can be viewed here!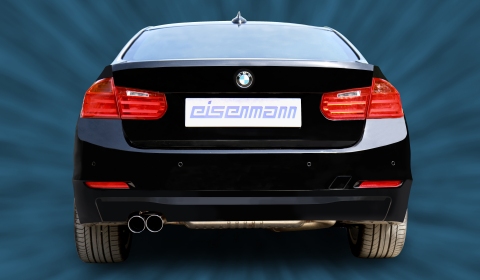 Prices for the Eisenmann exhaust systems are as follows:
F30 saloon 316d (85kW), 318d (105kW), 320d (135kW), 320d ED (120kW)
ESD, 2x 76mm: EUR €773.50
ESD, 4x 76mm: EUR €1,249.50
F30 saloon 328i (180kW)
ESD, 2x 76mm: EUR €1,368.50
ESD, 4x 76mm: EUR €1,666.00
Intermediate muffler: EUR €892.50
Sound pipe: EUR €773.50