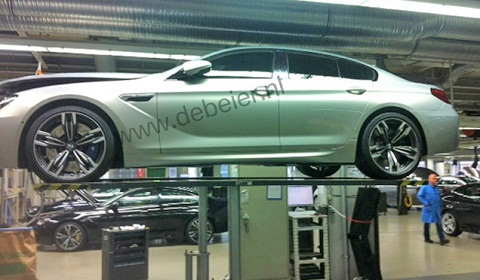 A single pictures has emerged via BimmerPost that shows the BMW M6 Gran Coupe at BMW's factory. The BMW M6 Gran Cupe hasn't been revealed yet but we've known of its existence for a while. The photo reveals that it gets new rims, the car at on the platform features the normal M-division brakes, whereas, the car at the rear features carbon ceramic, evident from the gold calipers.
Expect the M6 Gran Coupe to share the same underpinnings as the normal Gran Coupe with the same upgrades applied to the M6 Coupe and Cabriolet. The M6 features the same 4.4 liter V8 engine as the BMW M5. It gets 560hp and 680Nm of torque available from as low as 1,500rpm to 5,750rpm. The engine also features direct fuel injection, Valvetronic variable valve timing and Double VANOS continuously variable camshaft control, all of which help it to rev to 7,200rpm.
Should M5 owners be worried about the M6 Gran Coupe?