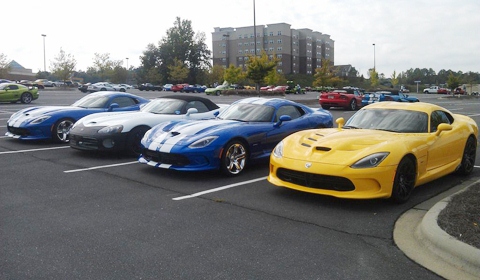 The Viper Club of America, together with the SRT division of Chrysler held the 12th biannual Viper Owners Invitational in Charlotte, NC from last weekend. Viper owners from across the world united at this event exceeding 1,000 in number, an event similar to the 971 Ferraris at Silverstone with acceleration and straight-line speed measured at zMax Dragway located across from Charlotte Motor Speedway.
Other events included road course, autocross, go karts, scenic cruise, and drag strip. Saturday night highlights included the VOI12 attendees' formal dinner with a flashback on the history of Viper and its owners on a stage that had a quartet of Vipers.
There were also presentations from both Beth Paretta – Director of operations for SRT brand and SRT Motorsports and Ralph Gilles – President and CEO of Street and Racing Technology Brand and Motorsports.