John Hennessey and his team have released their first package for the brand new 2013 SRT Viper. The Venom 1000 Twin Turbo engine upgrade is expected to offer an astonishing performance of 1,120bhp at 6,200rpm and 1,092lb-ft of maximum torque at 4,200rpm. Fitted with the kit the new Viper will be able to go from naught to 60mph in 2.7 seconds. A quarter mile will be done in 9.7 seconds at a speed of 152mph.
The package features a large number of upgrades added to the 8.4 liter V10 engine, which produces 640 horsepower and 600lb-ft of torque in the standard setup. Hennessey engineers will fit forged aluminum pistons (9.2:1 compression ratio), forged steel rods & wrist pins, ARP 2000 rod bolts, thermal coated rod bearings, computer balanced rotating assembly, twin precision ball bearing turbochargers, front-mounted air-to-air intercooler, polished stainless steel inlet tubes, custom intercooler hoses with T-clamps, stainless steel turbo headers, stainless steel turbo down pipes, and external wastegates.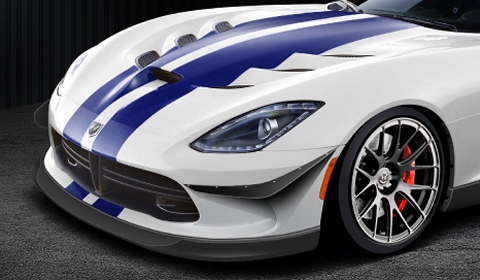 The enhanced Viper sound track comes from a stainless steel three inch exhaust system. Hennessey also upgrade the fuel injectors, fuel pump & lines and fuel pressure regulator.
An engine management system upgrade, engine management calibration, Hennessey shift knob, Hennessey floormats, Hennessey & Venom 1000 twin turbo exterior emblems and serial numbered dash & engine plaques are also included in the package.
Optional aerodynamic upgrades are a VenomAero front carbon fiber splitter, VenomAero rear lip carbon fiber spoiler, VenomAero rear racing wing and VenomAero front carbon fiber canards.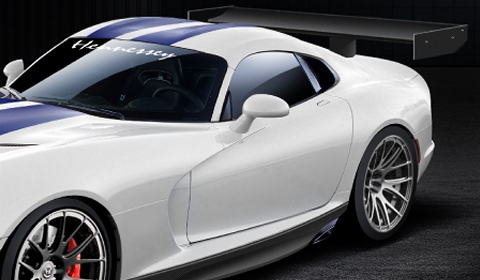 Hennessey lightweight monoblock wheels, Sabelt five-point racing harnesses with Hennessey and Venom logos, a Penske double adjustable coilover suspension upgrade system, a rear differential cooler (recommended for track driving), a rollbar system, a custom painted stripe options, a 2.5 lb Halon fire extinguisher and a carbon fiber interior trim accessories are also available upon request.
John Hennessey offers the kit with one year / 12,000 mile limited warranty. Pricing has not yet available! Please contact Hennessey for more!