Manufacturers are having to find more ways to cut their emissions now due to ever tighter regulations on pollution and its causes. At least we think that's the reason Lamborghini have announced that they will offer the Aventador with a fast start/stop system and cylinder deactivation. Afterall, it probably isn't to save the owner a few euros on the price of fuel!
Lamborghini will be using a highly advanced and utterly unique technology for its new start/stop system in the Aventador. The energy for re-start following a stop phase is delivered by high-performance capacitors known as supercaps. The supercaps enable an extremely fast start-up, with full V12 power available again in just 180 milliseconds. This makes it significantly faster than with more conventional systems.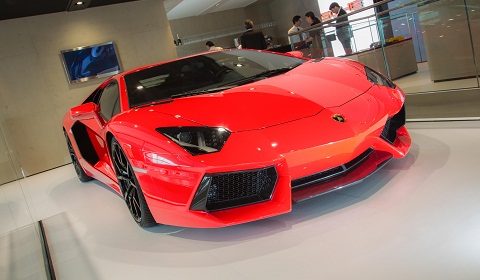 Similarly, under low load and at speeds of less than 135 km/h, the Cylinder Deactivation System deactivates one cylinder bank, allowing the power unit to run as an inline six. As soon as you depress the throttle, the V12's full 700hp comes back to life. It's said to be almost unnoticeable.
These two measures save seven percent to bring the economy figure up to 16 liters/100km or 14.7mpg. At highway speeds of around 130 km/h the reduction in consumption and emissions is as much as 20 percent. In total the CO2 emissions of the Aventador have been reduced from 398 g/km to 370 g/km.
That's not all though. What other companies would call a mild facelift, Lamborghini casually announced as a footnote! The Aventador gets improved chassis settings with stiffer springs and optimized dampers. New forged Dione design alloy wheels and a carbon fibre package are also available.
The optional carbon fibre reinforced plastic components include a new front spoiler, air intakes, engine cover panel, powertrain cladding and interior parts.