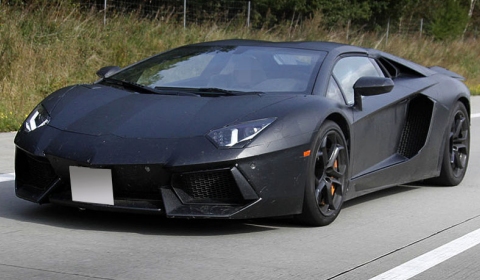 A set of new 2013 Lamborghini Aventador Roadster spyshots has been released today. The pictures show a black test mule driving around in Germany.
The test model features a two-piece roof panel clearly visible by a new center line in the middle of the roof. The removal panels are part of the Targa-style removable roof, which is detachable in two sections. It is unknown if you can store the panels in the front luggage compartment, or if you have to leave them at home.
Looking closely at the photos you can see that the section immediately behind the cabin is also new. The vertical rear window is now completely exposed and is flanked by two raised sections leading from the bulkhead to the rear of the car.
The new roofless supercar is rumoured to make its debut at the NAIAS Detroit Motor Show early next year.
Thanks to Mark from LamboCars.com!