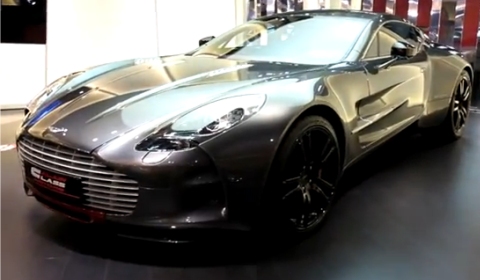 This is the first video showing an Aston Martin One-77 Q-Series by Aston Martin. Only seven were build within the already limited series of 77 Aston Martin hypercars. This particular one is currently for sale for AED 11 Million in Dubai at Alan Class Motors, which is 2.4 million euros or 3.0 million dollars!
The Q by Aston Martin bespoke treatment was introduced at the Geneva Motor Show 2012 in March. The service offers an extension to interior and exterior styling. Q by Aston Martin can help to design and procure luxury items beyond the customers' car. This could extend to colour matching a Brompton bicycle to their Aston Martin, supporting the customer's architect to design their house, or creating colour themes and materials for the interior specification of a yacht.
The Aston Martin One-77 features hand crafted aluminium paneling and a carbon fiber monocoque chassis. The engine, a naturally aspirated 7.3 liter V12 engine with 750hp, was the most powerful naturally aspirated engine ever to be fitted to a production vehicle. 0-100km/h takes just 3.5 seconds and top speed tests showed that the car is capable of reaching 357km/h.