Kim Kardasian is one of the few female celebrities with a garage that suggests a very aggressive and updated taste in cars and with the help of Jack and George at Platinum Motorsports in Los Angeles; she has one of the hottest garages out there. 
Starting with her famous Reggie Bush's Ferrari F430 and adding others like the $190,000 black Bentley Continential GT with monogrammed seats, a $275,000 white Ferrari 458 Italia, a Black Range Rover HSE, a $250,000 black Rolls Royce Ghost, and a $300,000 white Rolls Royce Phantom, not to mention she also bought a Lamborghini Aventador for her boyfriend Kanye West on his birthday. Her latest addition is the 2013 Mercedes G63 AMG. This is what she said on twitter, "Got the 1st one! Hey Platinum Motorsport… get ready, I have a new toy!"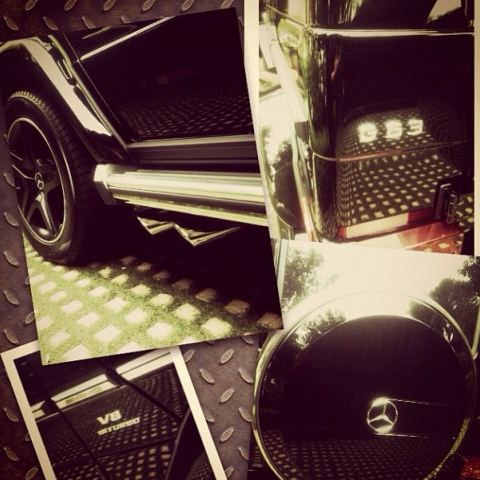 The $150,000 toy comes with a AMG 5.5 liter V8 Biturbo engine and it's the world's most powerful standard-fit V8 biturbo with increased power, better fuel consumption and reduced emissions thanks to the direct-injection, turbo-charging, start-stop technology, and reduced displacement which all result to a 536hp and 560lb-ft of torque. It will do 0-100km/h in 5.4 seconds faster than a Range Rover Sport which does that in 6.2s. Other major features include the High-performance engine electronics with controlled efficiency start / stop function and generator management.
The exterior is quite the obvious of AMG styling with Stainless steel running boards and 20 inch five twin-spoke alloy wheels while it also utilizes LED daytime running lamp. It comes with AMG Sports Exhaust System and Red brake calipers. For more information on the luxury SUV check out our road test of the 2013 Mercedes-Benz G 63 AMG.