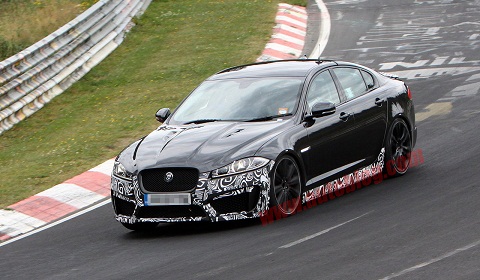 Spy photographers at Autoblog have been busy shooting the Jaguar XFR-S testing at the Nurburgring this week. The hot Jaguar is getting closer to a full release, in the mean time, there's still plenty of handling setups to be adjusted. The example seen testing features a very stealthy look, blank out the traditional camouflage and you'll see that all the chrome parts have received black paint!
Rumours suggest that the Jaguar XFR-S will be released at the Paris Motor Show this year. No exact details are known at this stage, but expect a series of upgrade to the chassis, styling, exhaust and engine performance. The output of the 5.0 liter supercharged V8 should get up to around 550bhp and 680Nm of torque. The upgrades should place the Jaguar XFR-S closer to the new BMW M5 and Mercedes-Benz E63 AMG in terms of performance.
We expect Jaguar to replace the Jaguar XF by 2014. The XFR-S will help keep the model range desirable until that car is ready. Jaguar will keep offering the XFR alongside the XFR-S. Price projections put the range topping model at £70,000 which is 88,000 euros at today's exchange rate.