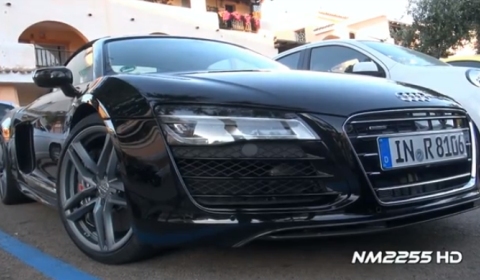 YouTube member NM2255 spotted this brand new 2013 Audi R8 5.2 liter V10 Spyder in Costa Smeralda, Italy. The brand new black R8 V10 is registered on German plates from Ingolstadt, home to the Audi headquarters.
This is clearly the first time the facelifted Audi R8 has been spotted on the road. The main changes for the facelift include the seven-speed S tronic dual clutch transmission which replaces the six-speed automated manual R tronic, a redesigned front bumper with new LED headlamps which are standard on all versions and a new rear end including LED taillights, a redesigned 'R8′ logo, a restyled diffuser and new exhaust tips. Interior trim levels also benefit from the refresh.
More on this new 2013 Audi R8 V10 right here. You can check the pricing right here!