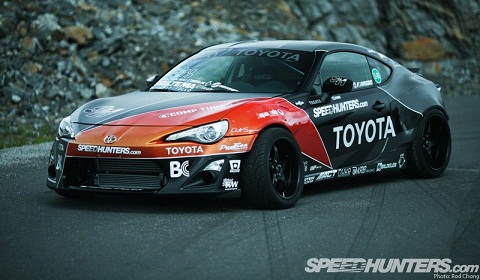 Our friends over at KW have been working with a team from Speedhunters recently. They managed to get a Toyota GT-86 which is being run as a drift car at the moment. The project took just 37 days to complete and it ran in the Gatebil drift competition in Norway recently. The car features a complete engine transplant using a Toyota Supra 2JZ-GTE engine.
In terms of styling, the bodykit consists of a TRA Kyoto 6666 Customs GT Rodeo Special Rocket Bunny wide body prototype fender conversion. The livery is a unique design painted by Ås Technical University. We're told that two different engines will be used in the car. Both are 2JZ-GTE Supra engines. The first features 640hp and 802Nm of torque to the wheels. The second is a 3.4 liter version of the same engine with 800hp and 1,000Nm of torque to the wheels.
The car uses an Advanced Clutch Technology (ACT) triple disc race clutch and an ACT custom flywheel. Mid Valley supplied a four speed transmission, the driveshaft is by Ingar at Powertrain and the rear axles by The Driveshaft Shop. Underpinning the whole project is the Toyota GT86 production chassis with KW Suspensions 3 Way Race Kit and several essential drift-specific parts.
The Toyota 86X also uses and FIA & Formula Drift-approved roll cage, transmission tunnel, rear firewall and radiator mounts all supplied by JH Linnerud. Inside are Takata FIA harnesses, a GS Performance steering wheel, FIA seats, custom dash switches, automatic circuit breaker setup, custom steering column and a throttle pedal assembly.
We're told that the car will tour Europe with Norwegian racer Fredric Aasbø at the wheel.
[Photo Credits: Speedhunters]