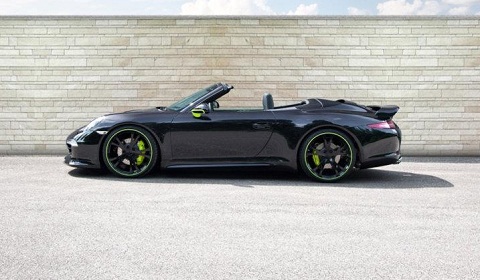 TechArt revealed a Porsche 991 Cabriolet designed to look similar to the Porsche 911 Turbo S 'Edition 918 Spyder' today. The car features lime green accents applied to a gloss black body finish with the same design style for the interior too.
It also the first time we've seen the TechArt bodykit applied to a Porsche 991 Cabriolet. The kit was first unveiled at the Geneva Motor Show earlier this year, we've driven the coupe already.
This particular aerokit is name Aerokit I. It's the most subtle variant TechArt will offer and features a spoiler with an integrated splitter at the front, upright aerowings in both front air intakes, headlight and side mirror trims. At the rear TechArt offer three different spoiler options, fitted to this car is rear spoiler II, a fixed spoiler with a trailing edge and an integrated third brake light.
The wheels are Formula III forged with a gloss black finish. Inside, TechArt fitted a leather interior with contrasting lime green stitching. The steering wheel has been changed for a TechArt sport steering wheel, replacing the PDK button shifts with a proper set of paddle shifters.