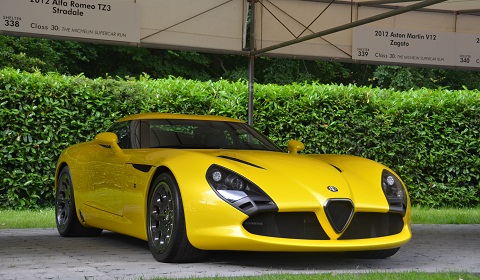 There's plenty to see at the Goodwood Festival of Speed 2012 Supercar Paddock. A selection of the worlds finest supercars and hypercars are on display this weekend, probably the best the show has ever seen. We've counted at least two Bugatti's, the new Aston Martin V12 Zagato and the spectacular Pagani Huayra among others. The cars hit the track twice a day so stay tuned to check out our photos from the hillclimb. For now, we'll just run through some of the highlights!
Its early at the moment so plenty of cars are missing, but we've already had a look at the Infiniti Emerge-E road-going concept car and the Lamborghini Aventador among others. There's also the UK premiere of the Bugatti Veyron Grand Sport Vitesse on display, another technical masterpiece. Bentley have displayed the Continental GT Speed for the first time alongside the Bentley Continental GT V8, a car that has had a fantastic response. On the more obscure side you have the Ginetta G60, the GTA Spano and the brand new Arash AF-10 LM racer. Others include the Ferrari FF and the Morgan Plus 8.

All the major brands took cars along for the moving display, which heads up the hill climb six times during the annual Festival of Speed. Cars like AC 378 GT, Alfa Romeo 8C Spider, Audi R8 V10, BMW F12M M6 Coupe and Convertible, Camaro SS, Ferrari 458 Italia Spider, Lotus Evora GTE, Maserati GranTurismo Sport, Mercedes-Benz SLS AMG Roadster, 2012 Porsche 911 and RUF CTR3 Clubsport are all part of the lineup!
Stay tuned for the second part of our Supercar coverage from the Goodwood Festival of Speed tomorrow when the Festival is in full swing!