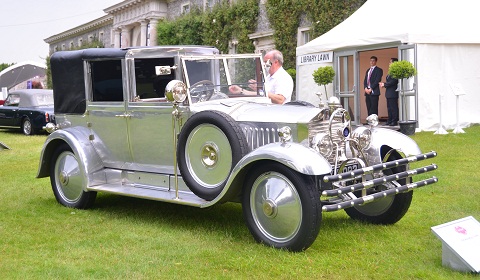 The Cartier Style et Luxe vehicle concours d'elegance display next to Goodwood house is one of the highlights for historical car enthusiasts. The car show is back for the 18th consecutive year at the Goodwood Festival of Speed 2012 this weekend.
This year the organizers focussed on five different classes covering one single subject; the Queen's Diamond Jubilee. As a mark of respect to Her Majesty Queen Elizabeth II for her Diamond Jubilee, Goodwood and Cartier gathered a selection of vehicles all personally owned or used by Her Majesty. These vehicles have never been seen in public together as a collection.

In the class State Occasions we came across 1920 Royal Midland 4500 Royal Special Saloon, 1929 Daimler Double Six 30hp Brougham, 1948 Rolls-Royce Phantom IV, 1961 Rolls-Royce Phantom V and a 1969 Austin Princess Van des Plas. Some of the cars are still owned by Her Majesty The Queen.
In the class Overseas Engagements the display includs a 1924 Rolls-Royce Silver Ghost, 1925 Rolls-Royce 20hp, 1948 Daimler DE 36 All Weather Tourer, 1950 Lincoln Cosmopolitan Limousine and 1965 Mercedes-Benz 600 Pullman. The 1952 De Havilland DHC-1 Chipmunk, 1937 Daimler V Shooting Brake, 1961 Vauxhall Cresta Friary Estate and 1951 Ford V8 Pilot Shooting Brake belong to the Country Life class.
Class four features three cars; 1961 Alvis TD21 DHC SII, 1963 Rover P5 and a 1991 Daimler Double Six Series 3. All cars in the Fit For a Prince class are owned by the Royal Family, such as the 1924 Citroen C4, 1950 Austin J40, 1966 Aston Martin DB5 and 1988 Aston Martin Volante.
During the weekend, a number of Her Majesty's cars will move from the Cartier Lawn and slowly parade along the Goodwood hillclimb for a special Diamond Jubilee tribute to Her Majesty The Queen.