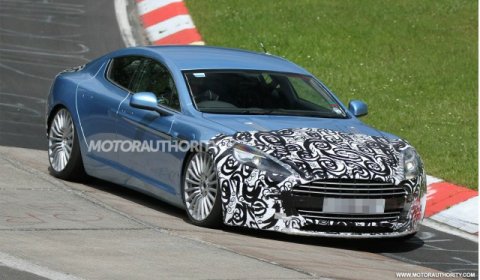 On Monday we were at the Aston Martin Technical Center near the Nurburgring to drive test two of Aston's latest models. Parked next to the workshop we spotted this light blue Aston Martin Rapide S test mule, which had its front and rear covered with camouflage.
Today a series of spyshots was released via MotorAuthority showing the new Rapide S in action on the 20km-long Nordschleife aka the Green Hell. The engineers at Aston Martin are testing a new model, which will have a more powerful version of the car's 6.0 liter V12 under its hood. The new output will be more than the regular model's 470 horsepower.
The faster Rapide will feature some revised styling both front and rear. Tweaked bumpers feature a lower, more aerodynamic look, as well as revised lights and a higher integrated ducktail spoiler.