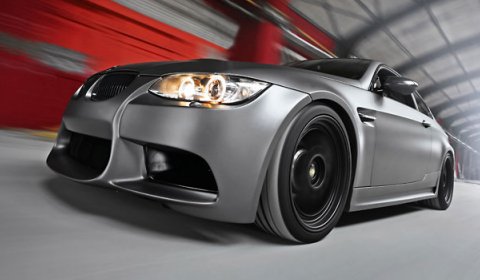 Cam Shaft Premium Wrapping is back with a new creation. They fitted a matt space-gray metallic vinyl by Bruxsafol on a BMW E92 M3.
The new front apron comes from Racing Dynamics, whilst Hamann Motorsport is responsible for the sills. The BMW M3 spreads its tune via an Akrapovic stainless steel exhaust system with 100 cell cats.
The wheel-tire-combination consists of matt black painted BBS-Le Mans rims sizing 8.5×19 inch with 245/35Z R19 tires in front and 10×19 inch with 265/35Z R19 on rear. A variant 3 KW suspension was installed to optimize the driving dynamics.
In the interior of the M3 one can find carbon parts and aluminum pedals installed by Hartge.
The total price of the wrap is 2,500 Euro, including work and materials.