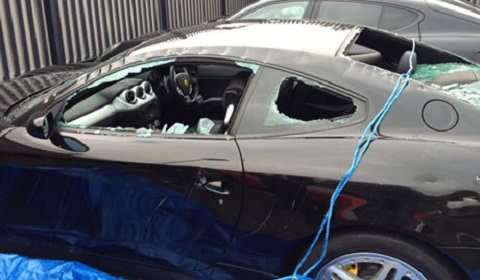 Reports have surfaced about a Ferrari 612 Scaglietti that got destroyed over the weekend at a Scottish Ferrari dealership. How did it get destroyed? By an axe-wielding maniac apparently!
It appears that a man got into the Graypaul Ferrari garage in Fort Kinnaird near Edinburgh and proceeded to smash the windows of the supercar with an axe. After causing around £40,000 worth of damage, the man slashed the tyres and fled the scene. The entire act was caught on CCTV.
The car belonged to Rajinder Singh, a property developer from Kilmacolm, Renfrewshire who booked the car in to get a pump fixed. The Daily Record quotes him as saying:
It is bad enough that this has happened but the garage have been useless. The whole thing is a bad joke. I gave the garage a car worth more than £200,000 and they give me back a car that is effectively written off. The police asked me if there could be anyone who has a grudge against me but the garage is miles from my home. No one would have known it was my car. The police say they have ­investigated, got no leads and say there's nothing else they can do.
[Via DailyRecord]