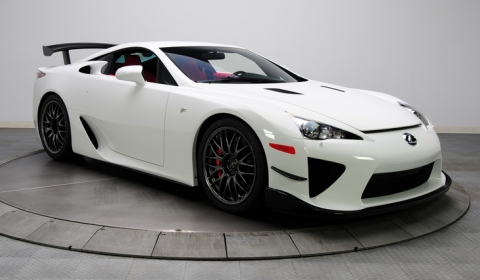 One of the 50 limited Lexus LFA Nurburgring Edition's is for sale via RK Motors Charlotte in the US. The Japanese supercar wears a glossy coat in White and has a red interior combined with Alcantara.
It includes enhanced aerodynamic performance and improved high speed downforce thanks to a larger front spoiler, fin-type side spoilers, a canard fin, and a fixed rear wing. Power has increased by just 10hp to just over 570hp, enough to ensure that the LFA maintains its acceleration time of 0-100km/h in just 3.7 seconds and a maximum speed of 325km/h. The maximum torque is 480Nm at 7,000rpm.
The Lexus LFA Nurburgring Edition is available only in matte black, black, white or orange. The interior only gets three colour schemes, black and red, black and purple or all black.
The supercar has only 122 miles on the odometer and the price has not been communicated. If you are interested click here.