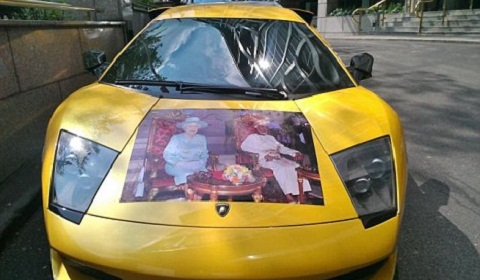 A Lamborghini LP640 has been spotted in Kensington, London bearing a unique design. It features a picture of Queen Elizabeth II sitting next to Qaboos bin Said Al Said, the Sultan of Oman on the front bonnet. The picture appeared on in yesterdays issue of the Metro, a free weekday newspaper handed out to morning commuters. The Lamborghini was spotted outside the five star Kensington Garden Hotel in London.
The picture is intended to celebrate Elizabeth II's 60 years as Queen of England and the wider Commonwealth. Her corronation, on the 2nd June 1953, will be celebrated this weekend with a double bank holiday observed across Great Britian. We're yet to see other supercar owners follow suit, and if we're honest, we don't think they will.
The Lamborghini LP640 was the facelift model for the Lamborghini Murcielago. It featured an increased engine size of 6.5 liters, 640hp and minor upgrades to the styling. The LP640 was superseded by the Lamborghini Aventador.
[Via Metro]