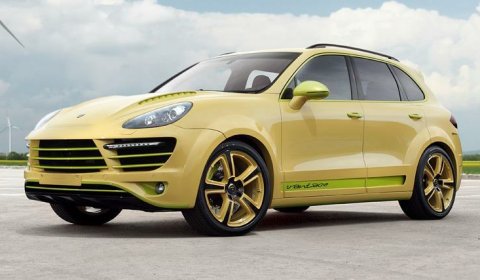 Top Car released their Lemon-coloured Top Car Cayenne Vantage 2 in time for summer! This particular Porsche Cayenne (958) gets a Top Car cosmetic make over with a complete Vantage 2 body kit and a new colour scheme. The Vantage 2 is Top Car's normal aero package, prices for the non-carbon fiber parts start at 21,760 euros.
The Vantage 2 set includes front and rear bumpers, front and rear fender extenders, side skirts and kicker plates, bonnet and boot lid spoiler. The Cayenne also gets a new set of exhaust tips designed in the style of the iconic Porsche Carrera GT. As with all Top Car products, the interior is finished exceptionally with black perforated leather and lime green piping.
As we've said before, the main body colour for this project is a citreous lemon colour, this is accented by a special pearl lime paint covering the car's details. The design was a special order for a European customer who had creative input into the car's design and finish. This is an aspect of Top Car's business that makes them stand out from the rest; you can spec pretty much anything and Top Car will deliver it!