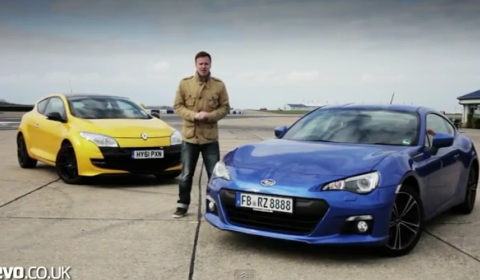 EVO magazine put the Subaru BRZ up against the Renaultsport Megane 265 Trophy. This means rear-drive versus front-drive. Evo's Editor Nick Trott sits in with Editor-at-large John Barker as they take to the evo track.
The limited-edition 2012 Renault Megane Renaultsport 265 Trophy, the fastest road-going Renault ever. It is 15hp more than Mégane Renaultsport 250, plus 20Nm extra torque at 360Nm. The power-to-weight ratio is 191hp per tonne. The improved performance statistics provide a zero to 100km/h time of six seconds and a top speed of 255km/h.
The Asian sports car will feature a 2.0 liter boxer engine with 197bhp at 7,000rpm and 205Nm of torque at 6,600rpm. The engine can be paired to a six-speed manual or a six-speed automatic transmission. The US-spec BRZ will be at least 11lbs (5kg) heavier than the International version.